Iris out of Mineral Springs Rex and Tyler Maybell was born March 3, 1997. A deep bodied cow with a wide, even belt. Iris has a very high milk production and has an excellent wean weight on her calves.
---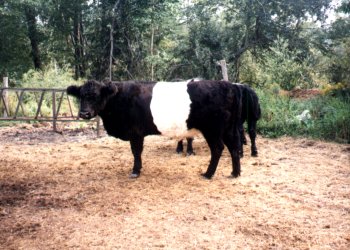 ---
Homepage ~ See Cows ~ Windy Ridge Calves ~ About Belted Galloways ~ Belties for Sale ~ Contact us ~ Windy Ridge Gift Shop ~ Rent or Buy a cow Program
---
If you encounter any errors on this website,
or have suggestions, please
contact the webmaster:



Thank you!