Lass - out of the Australian bull Northfield Donald, was born in 2000.
Another promising heifer which we just purchased. Lass is a very tall,
deep-bodied animal. With her larger bone structure she has a great
potential as a brood cow.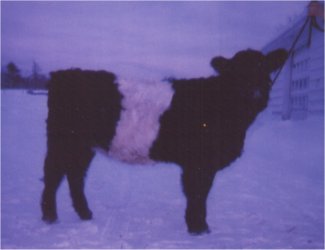 ---
Homepage ~ See Cows ~ Windy Ridge Calves ~ About Belted Galloways ~ Belties for Sale ~ Contact us ~ Windy Ridge Gift Shop ~ Rent or Buy a cow Program
---
If you encounter any errors on this website,
or have suggestions, please
contact the webmaster:



Thank you!